KAROUN DAIRIES INC cheeses are mainly white cheeses, semi soft cheese or semi firm cheese and firm handcrafted braided string cheeses.
Karoun Dairies wide variety Mediterranean specialty white cheeses and dairy products are the traditional Mediterranean and Middle Eastern white cheeses.

Mediterranean specialty cheese, authentic Lebanese cheeses and dairy products handmade in the traditional all natural authentic artisan way from first quality milk according to

KAROUN DAIRIES SAL

standards.




Our Mediterranean origin healthy natural food Karoun Dairies Karoun brand specialty semi soft or semi firm and firm cheeses and authentic artisan original Karoun dairy products are all natural.




No starches, gums, gelatins, emulsifiers, stabilizers or coloring are added to Karoun Dairies wide variety Mediterranean specialty dairy products and white chesses.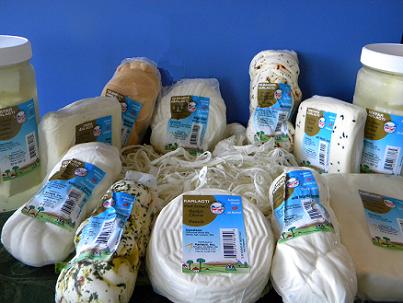 Karoun Dairies wide variety Mediterranean specialty semi firm white cheeses and dairy products, Karoun Dairies Karoun brand handcrafted authentic Middle Eastern specialty cheeses: Karoun Mediterranean Ackawi cheese, Karoun Nabulsi, Karoun braided string cheese, Karoun grilling cheese and various Armenian and Lebanese handmade Mediterranean specialty all natural white cheeses and Karoun dairy products are produced by the old country methods and Baghdassarian family recipes.

Karoun white cheeses are produced in different countries worldwide, according to the same strict quality standards which made the reputation of Karoun cheeses and dairy products worldwide.

Karoun Dairies Inc. continues the path drawn by Ohannes Baghdassarian with innovation, commitment, excellence and excitement.
*Not related to Karoun Dairies, Inc. of California, USA incorporated under the KAROUN DAIRIES business name and using the KAROUN trademark without the consent of our international group.
Copyright © KAROUN DAIRIES INC. 2OO8-2011 All Rights Reserved
4AB Consulting